Sale!
Description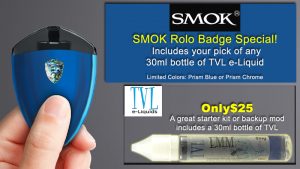 Smok ROLO Badge Kit Prism Blue, Prism Rainbow or Chrome Prism with a 30ml bottle of TVL only $25
The Smok Rolo Badge Kit features a powerful internal battery rated up to 250mAh, so you can enjoy an incredible vaping experience all day!
The pod system makes it easy for you to stay full all day.  Just fill your pods beforehand, snap on a new pod and you're ready to vape!
This Product Features:
Battery: Internal 250 mAh
Activation on Draw System
Maximum output power: 10-16W
Maximum output voltage: 4.2V
Maximum Liquid Capacity: 2.0mL
Micro USB Port
Additional information
| | |
| --- | --- |
| Color | Prism Blue, White Rubber, Prism Gold, Yellow Rubber |
| 30ml Bottle of TVL Flavor | 4 Berry Yogurt, Apple Buddah, BF Punch, Blue Manatee, Bubble Gum, Candy's Apple, Caramel Butterscotch Swirl, Caramel Cheesecake, Chill Melon, Chocolate Donut, Cola Gummy, Cotton Candy, Disco Lemonade, Double Dragon, Double Strawberry, Dragonfruit Cheesecake, Drunk Monkey, EMM, Fruity Bubble Gum, Funnel Cake, GrapeVape, Gummy Bear, Honey Tobacco, Ice, Kiwi Strawberry, Kiwi Watermelon, Mud Dog, Mystic Yeti, Orange Cream Pop, Pineapple Sweet, Rasberry Sweet, Red Menthol, Ripe Apple, Rootbeer Float, S3, Sangre De Sirena, Snap Vape Krack, Strawberry Cheesecake, Strawberry Watermelon, Strawmelon, Summer's One Night Stand, Sweet Blue, Sweet Georgia Peach, Sweet Tart, Ted, Tropicolada, Vanilla Custard, Vanilla Tobacco, Yeti Melon |
| mg | 0mg, 3mg, 6mg, 12mg, 18mg, 24mg |